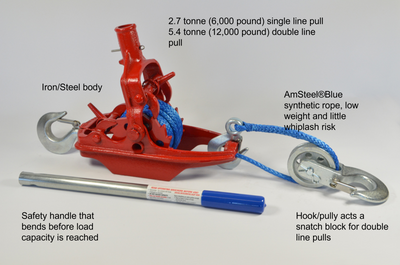 Wyeth-Scott Hand Winch - 2.7 - 5.4 tonne with AmSteel®Blue Synthetic Rope
$889.00
The More Power Puller® has been manufactured by The Wyeth-Scott Company in the USA since 1934. It is the safest and most durable cable puller/come along/hand winch ever made.
Overview

This heavy-duty industrial portable ratchet puller/hoist is not a typical light weight puller that would break after one or two uses. It has been designed and proven to perform in a variety of demanding environments without bending, breaking or collapsing. This will last the test of time, but should repeated abuse, wear and tear require replacement parts, many are available to ensure the original puller can continue operating long into the future.
Specifications
Model Number : 3-35-A-SLT
Rope Length : 10.5 m (~35 feet)
Rope Type and Breaking Strain: AmSteel®Blue, 6.2 tonnes (13,700 pound)
Double line dead lift weighting : 2.7 tonne (6000 pounds)
Single Line pull weighting: 2.7 tonne (6000 pounds)
Double line pull weighting: 5.44 tonne (12,000 pounds)
Unit weight: ~10.9 kg
Safety

Safety handle bends to prevent failure at load capacity
Extension handle (sold separate) can slip into safety handle, to halve winching effort with more leverage
Twin 'pawls' allow winch to be released under very high tension/load.
Synthetic rope stores little energy in-case of very unlikely failure (unlike steel cable hand winches).
Materials
The components are made of solid, thick iron - not aluminum. The model available is a 2.7 tonne single line pull, or 5.4 tonne double line pull when using the supplied hook/pully.
The rope is AmSteel®Blue, which is a synthetic rope that is stronger than cable, but so light that it floats. This is not your typical poly rope - the average strength is 6.2 tonnes! It stores significantly less energy and is much lighter than steel cable, so any breakages minimise risk to the winch operator.
Some surface rusting (due to the iron body) will occur over time as the paint wears off. Greasing and oiling will help manage this. It will not effect the winch operation.
Applications

This synthetic rope is safer for many activities - hauling out stuck 4WD vehicles, pulling trees (arborists), moving heavy objects (boats at the beach, stuck jetboats), straining posts, hoisting beams for building etc. The complete setup weighs less than 11 kg and can be stored easily in a small box or bag and swapped between vehicles, quad bikes, or boats.
SKU: 10000