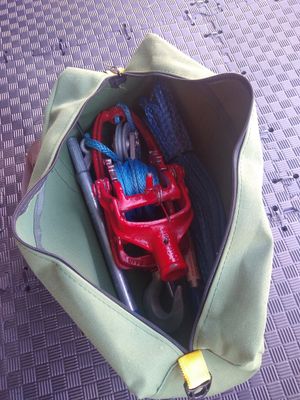 Complete Package (1.8 - 3.6 tonne)
$999.00
Stock arriving on 21st November - any purchases will be sent as soon as it is available.

A discounted package that consists of:
1x 1.8 - 3.6 tonne (8,000 pound) Wyeth Scott More Power Puller - capable of single and double line pulls with up to 6 m of AmSteel Blue Dyneema Rope.
1x Extension Handle - used to half the winching effort by providing more leverage.
1x 28 m Extension Rope - 12 strand 10mm UHMWPE synthetic rope used to extend the distance from an anchor point to the winch. This line has an average breaking strength of 20,500 pounds (9,300 kg). One spliced end with protector while the other end is free.
1x Winch Carry Bag
1 x 26,000 pound 2 m long anchor rope
1x Gloves
1x Stainless Steel rope thimble
We can create custom packages for you if you would like to add or drop some items, please email directly.
SKU: 10000-6-4